ExCoReL
Andreas Lebedew

Steinsdorferstr. 6C
85092 Bettbrunn
Deutschland
Телефон:

+49(0)9446 918 566

Е-Майл:

info@excorel.de

Umsatzsteuer-ID:

Umsatzsteuer-Identifikationsnummer gemäß §27

Umsatzsteuergesetz:

DE257770695
Disclaimer
As operators of these pages, we take the protection and security of your personal data seriously. Below we would like to inform you about the type, scope and purpose of the collection and use of personal data on our website.
The operator of this site and the person responsible for the processing of personal data within the meaning of the EU General Data Protection Regulation "EU-DSGVO", the current Federal Data Protection Act "BDSG-neu" and the Telemedia Act "TMG" is the operator of this site:
ExCoReL
Steinsdorferstr. 6c
85092 Bettbrunn
Andreas Lebedew

Type, extent and purpose of the collection, processing and use of personal data The transfer of personal data is voluntary:
When you call up our website, your browser automatically transfers files to our web server. The transfer of this information is technically mandatory. This includes, for example, access date and time, referring website URL, file access, amount of data sent, browser type and version, operating system and your IP address. The retention period is 7 days. Please note that this data is collected and processed in order to enable use of our website, to ensure the security of the data on our website and to allow technical administration. In addition the data are stored for statistical evaluation purposes.
If you send us an e-mail, your personal data will be collected, processed and used solely for the purpose of processing your request.
Transfer of your data to third parties Your data will not be passed on to third parties. Information, correction, blocking and deletion of your data You have the right at any time to release information on your stored personal data, its origin, the recipient and the purpose of the data processing as well as the right to have your data corrected, blocked or deleted. To do so, please contact our Data Protection Officer by e-mail at info@excorel.de. To contact us by mail, you will find the full address below.
Social media, analytical tools.
We do not use social media - plugins, tracking or analytics tools on our site.
Competent body, right of appeal
In Bavaria, the Bavarian State Data Protection Supervisory Authority (BayLDA) is the competent authority. If the Bavarian data protection laws are violated by the responsible authorities, you have the right to file a complaint. Contact for data protection For further questions regarding data protection and this privacy policy, please contact почте:info@excorel.de
The content and works created by the author on these pages are subject to German copyright law. Duplication, processing, distribution or any form of commercialization of such material outside of the scope of copyright law requires the prior written consent of its author or creator. Downloading and copying of this site is not permitted. In particular, third-party content is marked as such. If you should nevertheless draw attention to a copyright infringement, we ask that you provide us with the appropriate link. If we become aware of any infringements, we will remove such content immediately.
As a service provider, we are responsible for our own content on these pages in accordance with the general laws under § 7 para. 1 TMG. According to §§ 8 to 10 TMG we are not obligated to monitor transmitted or stored foreign information. or to investigate circumstances that indicate illegal activity. Obligations to remove or block the use of information under general law remain unaffected. However, liability in this regard is only possible from the point at which a specific violation of the law becomes known. If we become aware of such violations, we will immediately remove the relevant content.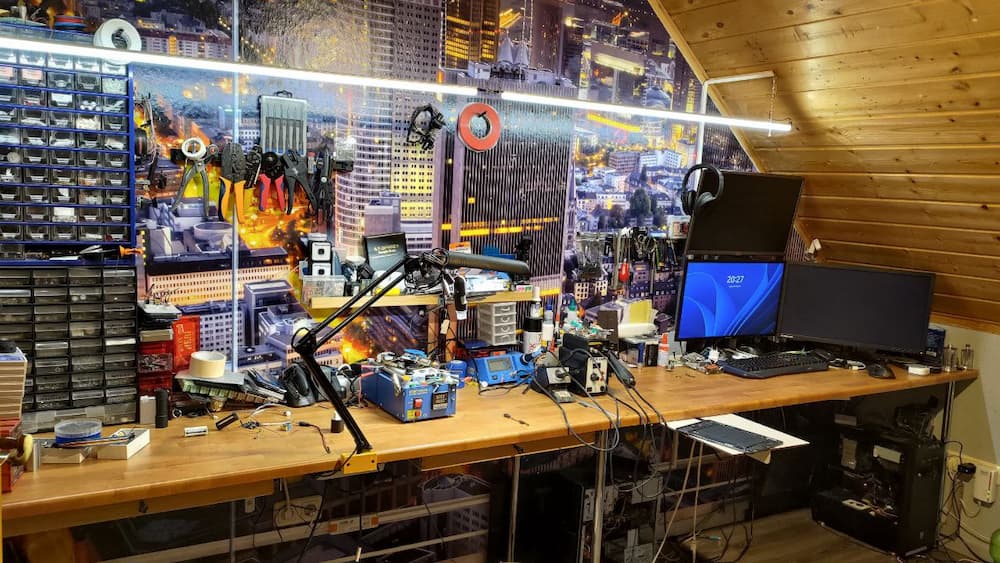 Excorel - Repair and maintenance of electronic devices.
Technology, practice, experience and understanding of processes is the main guarantee of quality repair of any type of devices. At the same time, attention and respect for our customers allows us to provide quality service and maintenance.